At eco Green, all of our tasks have been updated to reflect the most recent advice for cleaning procedures from the Australian Government Department of Health.
Our team has completed the Australian Department of Health's Covid-19 Infection Control Training, covering the fundamentals of infection prevention and control for Covid-19.
We follow official guidelines set out by the Global Biorisk Advisory Council to sanitise and disinfect workplaces, to give you peace of mind and to help stop the spread of Covid-19.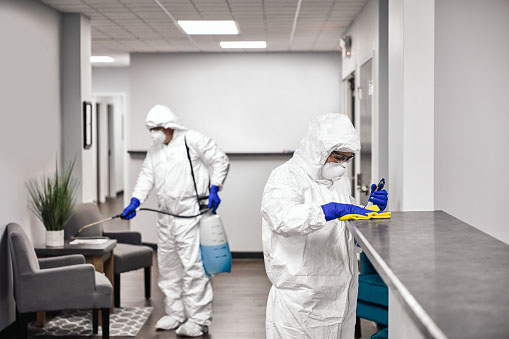 Protective cleaning- Detail attention to high touch surfaces at your space.
Using hospital-grade disinfectants, we will thoroughly clean and sanitise high traffic touch points to deal with any virus and bacteria.
This includes:
Door handles, push plates, entry and exit points, sinks, bench-tops, telephone handsets, buttons and taps in your bathrooms or kitchens, desks, computer screens, keyboards, mice and others.
Reactive cleaning – For exposed buildings.
This is recommended for sites that have been exposed to a suspected or confirmed case of Covid-19.
We follow a six-step approach as recommended by the Global Biorisk Advisory Council (GBAC), including spraying/fogging all surfaces.
Our team will arrive in PPE including Hazmat coveralls, and will punctiliously clean your workplace. We perform a post-clean assessment to ensure that your workplace is safe to return to.
We will continue to apply all advice and recommendations issued by The Australian Government with regard to COVID-19